Our team can help accentuate and illuminate your backyard space with perfect lighting.
When you work to have beautiful landscaping in the backyard of your St. Augustine, Florida home, it is a shame to lose visibility of it at night. Outdoor enjoyment and entertainment do not stop at the end of daylight hours, and backyard lights are a great way to enhance your space and provide visibility while enjoying the landscaping you love.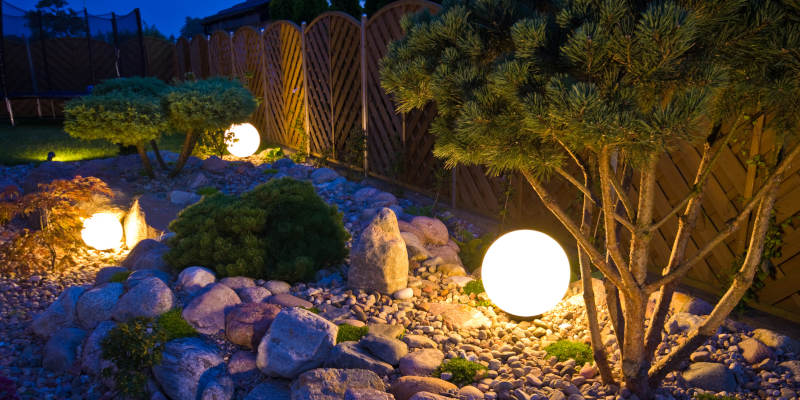 At Yosemite Irrigation and Landscaping, Inc., we are passionate about your landscape design and love to enhance your space with strategically placed backyard lights to accentuate your landscaping features and provide adequate lighting for ease of use. Backyard lights will showcase and illuminate both your landscaping and interesting architectural features of your home to provide interest and ambience to your outdoor area. They will also function as a safety feature, as well-lit areas are a natural deterrent to intrusion.
Our team has served the area with reliable, high-quality service since 2018 and delivers professional, stunning results that are custom to each individual job. We work with your space to enhance the unique features of your home and yard to bring your vision to life and make your backyard space an inviting oasis.
If you have been considering adding some backyard lighting to your home, reach out to us. We use top-of-the-line materials and have a wide selection of energy-efficient lights. We can even install motion sensors, as well. Give us a call today if you would like to increase your property's curb appeal, add an element of safety to your home, and enhance the appearance and functionality of your backyard space. We look forward to meeting your needs and accentuating the backyard space you love!
---
At Yosemite Irrigation and Landscaping, Inc., we offer backyard lights for customers in St. Augustine, Fruit Cove, St. Johns, Jacksonville, Ponte Vedra Beach, Palm Valley, Vilano Beach, Butler Beach, Crescent Beach, Elkton, Flagler Estates, Nocatee, Palm Coast, and throughout Flagler County, Florida.