We'll ensure your commercial property is thoroughly illuminated when the sun goes down.
If you own a commercial property and want to do more to ensure that the people who work there and visit it are safe after dark, commercial outdoor lighting is among the best ways to do so. Here at Yosemite Irrigation and Landscaping, Inc., we have the knowledge and expertise to install and work on a wide range of commercial outdoor lighting solutions, and we would be happy to assist you with yours.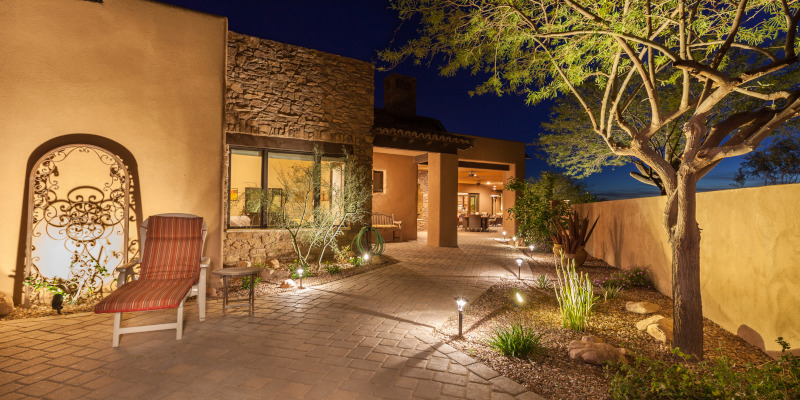 Commercial landscape lighting can serve a range of purposes, from illuminating signage or prominent landscape features to making sure that pathways, driveways, or parking areas are brightly lit long after the sun goes down. If you're looking to add extra security measures to your property, commercial landscape lighting is an excellent way to deter intruders. We can install security lights around your property that will help you and your employees feel more comfortable and secure after sundown and afford you extra peace of mind that criminals are less likely to attempt to break in or vandalize your property when no one is there.
We can provide several options for you to choose from to meet the unique needs of your commercial property, including LED and energy-efficient models that offer exceptional illumination without running up your utility bills. We also have the necessary tools and experience to perform repairs or replacements you may need down the line.
Our team is proud to provide commercial landscape lighting services for properties located in and around the St. Johns, Florida area. To learn more about our services and availability, contact our office today.
---
At Yosemite Irrigation and Landscaping, Inc., we offer commercial outdoor lighting for customers in St. Augustine, Fruit Cove, St. Johns, Jacksonville, Ponte Vedra Beach, Palm Valley, Vilano Beach, Butler Beach, Crescent Beach, Elkton, Flagler Estates, Nocatee, Palm Coast, and throughout Flagler County, Florida.