We provide irrigation system repair for your home or business.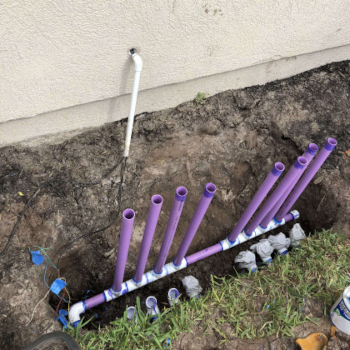 The irrigation system you have at your home or business is very important. The system supplies water to your grass, trees, flowers, bushes, shrubs, and even your garden plants. You always want to make sure that your irrigation system is working correctly so that your landscaping can get all the water it needs. When the irrigation system is not working, you can have a brown, dry lawn, bushes and shrubs that are dying, and trees that are droopy and sad looking. In order to make sure your watering system is adequately watering everything, you should call us for irrigation system repair as soon as you suspect you might be dealing with an irrigation problem on your St. Johns, Florida property.
When you work with us at Yosemite Irrigation and Landscaping, Inc., you are getting a team of experienced professionals who can handle both residential and commercial irrigation system repair. Whether you have a small property with a few sprinklers or a very large property with trees, flowers, grass, gardens, and shrubs with a complicated irrigation system, we can handle any of the repairs. We can also make recommendations on ways you can conserve water with a few changes to your irrigation system and help you prevent overwatering. Water costs add up fast, so it really helps to try to conserve water to lower those costs.
Reach out to us today if you are in need of irrigation system repair on your property. We can answer any questions you have and set up a service appointment at a time that is convenient for you. We are reliable and experienced, and we work hard to do quality repairs on every job we do. We can help your property look green and beautiful all year long.
---
At Yosemite Irrigation and Landscaping, Inc., we offer irrigation system repair for customers in St. Augustine, Fruit Cove, St. Johns, Jacksonville, Ponte Vedra Beach, Palm Valley, Vilano Beach, Butler Beach, Crescent Beach, Elkton, Flagler Estates, Nocatee, Palm Coast, and throughout Flagler County, Florida.